5-Shelf Organizer Rack (Slim)
---
Organize hassle free with the 5-Shelf Organizer Rack - when space is tight. With this slim rack – originally designed as Pantry Rack -you won't need tools for set up at all. Simply unfold it in seconds and get to organizing.
You Will Love This Product Because:
Looking for a heavy-duty storage solution that doesn't take up too much space? The 5-Shelf Organizer Rack can carry anything from cans of food to cans of paint. It provides accessible vertical storage space and more without taking up too much floor space.
It's sleek design comes with 4 wooden inlays - great for holding heavy items with its weight capacity of 100 lbs. Put it in the kinds playroom to organize games, in the garage to store heavy paint cans or in the pantry to hold foods. You will find so many uses for this rack, all you have to do it unfold it and put it wherever you want weather it is outside in the garden or in the garage.
Organize hassle free with the 5-Shelf Pantry Rack. You won't need tools, simply unfold it in seconds and get to organizing.
Here's What You Get:
Horizontal 5-Shelf Organizer in your choice of color.
4 Wood inlays that fit perfectly on the shelves.
1-year limited Origami warranty.
Direct access to Origami's Customer Happiness-Team by phone or email.
Features You Will Love:
Easy set up -simply unfold- NO TOOLS required.
Folds flat for easy storage under your bed or behind any door.
100% pre-assembled item - folded flat for shipping.
Organizes any tight space at home in no time.
Will It Fit In Your Space?
Time to get out the measuring tape! Dimensions and capacity of the 5-Shelf Organizer Rack (Slim)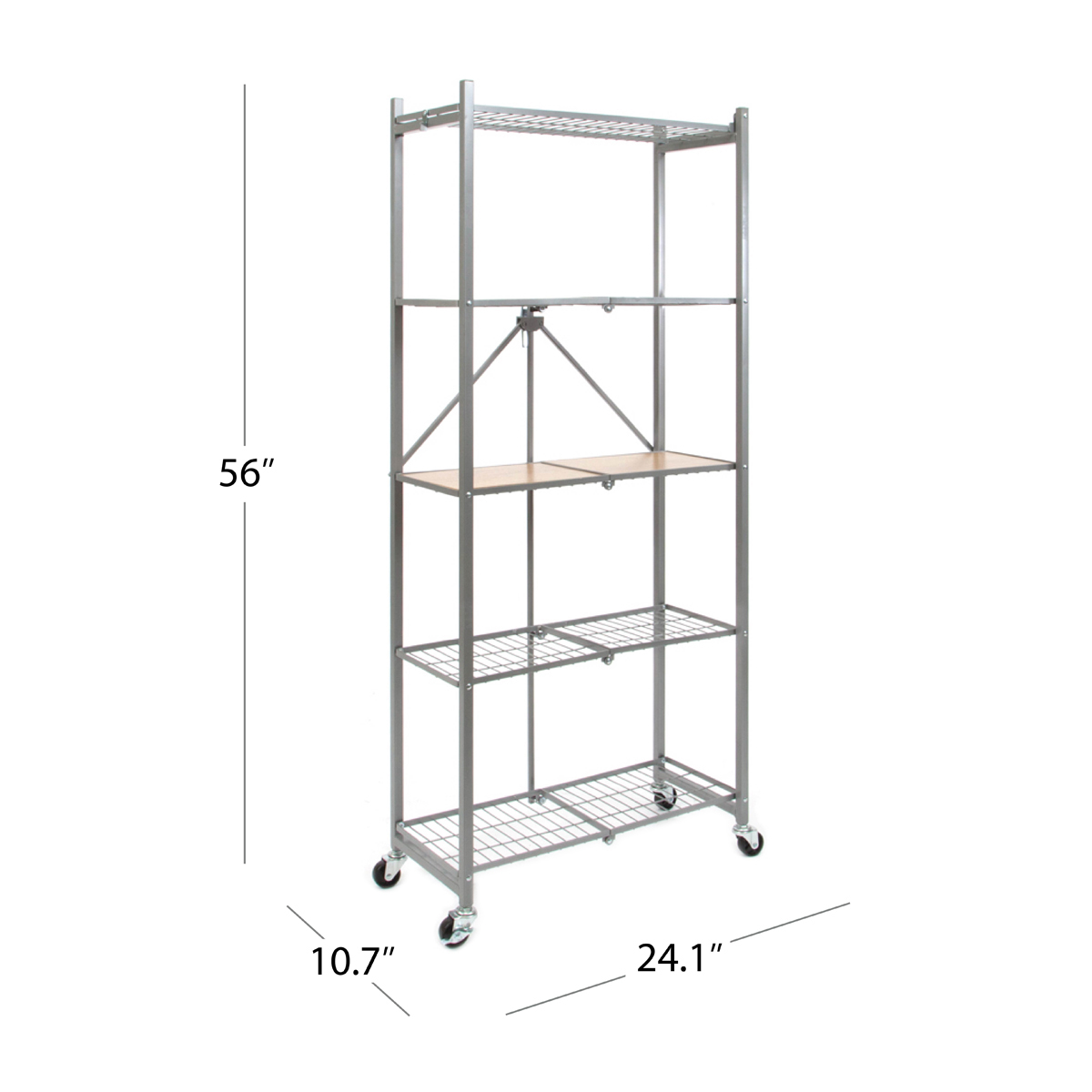 Size Unfolded:

Approx. 24.1" W x 10.7" D x 56" H

Weight:

Approx. 23 pounds

Assembly:

One person can assemble in less than 1 minute - no tools required.

Item Series (SKU):

Black: RPR-05-BLACK

Silver:RPR-05-SILVER

White: RPR-05-WHITE
Don't just take our word for it!
See Yourself Why The 5-Shelf Organizer Rack (Slim) Is So Different