3-Shelf Lightweight Storage Rack [Refurbished]
Availability:
Out of stock
---
This Small Lightweight Racks has been carefully inspected and refurbished. It unfolds in less than 20 seconds. 100% functional - best price guaranteed. This refurbished item might have some minor dents or scratches, but are 100% functional.

You won't believe it's that easy!
Our friends at HSN had the 3 Shelf Storage Rack on their live show recently.
Check out a 2 min sneak peak of the show on the left.
Or the entire 18 min presentation here
You Will Love This Product Because:
100% functional - best price guaranteed. This item is refurbished, passed the Origami Quality control and is set up in your home in less than 20 seconds.
The  refurbished 3-Shelf Lightweight Storage Rack can store everything from small toiletries to lightweight boxes and are a sturdy solution to all your organizing needs. 
Perfect for freeing up space in your garage or workshop, this organizing solution is made of steel and coated with a chip-resistant powder coating, which prevents scratches and corrosion for durability and strength. Each of the wire shelves allow airflow and hold up to 55 pounds if you attach the professional grade swivel wheels so you can move it around with ease. For a more permanent installation - without the wheels - the shelf easily holds 165 pounds.
As for all Original refurbished versions: We can't guarantee which color combination you'll get - but we can guarantee that you'll get the best price. Please keep in mind that some might have minor scratches or dents. 
Here's What You Get:
100% pre-assembled (refurbished) item - folded flat for shipping.
We can't guarantee the color combinations - chances are you'll get 2 different versions.
8 professional grade caster wheels with lock function.
1-year limited Origami warranty.
Direct access to Origami's Customer Happiness-Team by phone or email.
Features You Will Love:
Easy set up -simply unfold- NO TOOLS required.
Patented Origami Connection Clip to ensure stability.
Folds flat for easy storage under your bed or behind any door.
Each shelf easily holds 250 pounds.
Easy to move around and clean behind/ under.
Your powder-coated steel frame resists chipping, scratching and corrosion.
Will It Fit In Your Space?
Time to get out the measuring tape! Dimensions and capacity of the 3-Shelf Lightweight Storage Rack [Refurbished]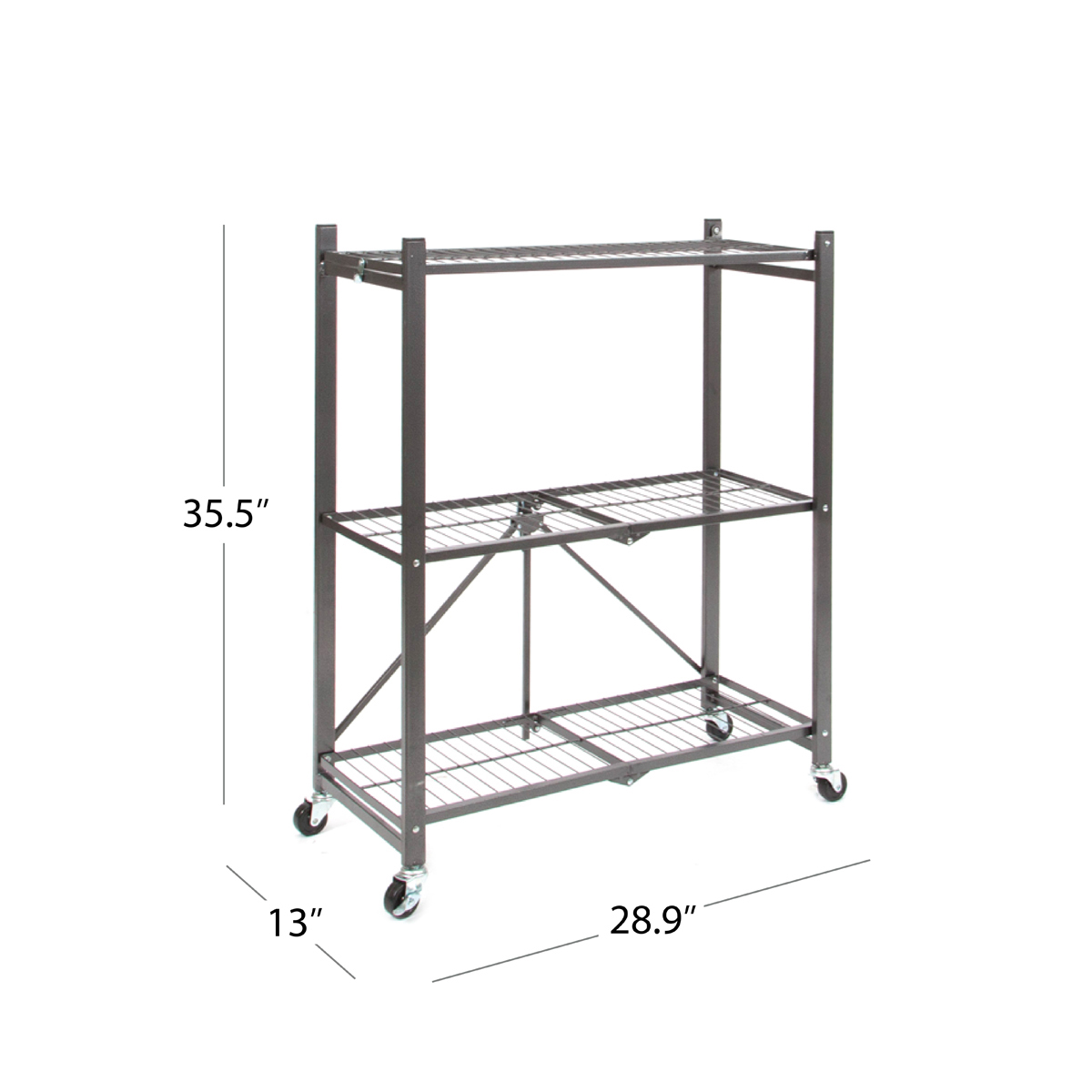 Size Unfolded:

Approx. 28.9" W x 13" D x 35.5" H

Size Folded (for Storage):

Approx. 3.4" W x 12.9" D x 35.4" H

Weight:

Approx. 19 lbs

Assembly:

Requires 1 person and less than 2 minutes. No tools required.

Weight capacity per shelf:

Approx. 250 lbs. (without wheels)
Approx. 75 lbs. (wheels attached)

Distance between shelves:

Approx. 13.8", 15.4" (measure bottom to top)

Item Series (SKU):

This Rack is part of the Origami R3-Series
Don't just take our word for it!
See Yourself Why The 3-Shelf Lightweight Storage Rack [Refurbished] Is So Different