6-Shelf "Big Boy" Heavy Duty Rack
---
The "Big Boy" is a large commercial-grade display rack - customizable for your individual needs. It's ready to store and organize all of your stuff in seconds. Modify it to fit your needs by turning it in to a 4,5,6 or 7 tier shelf. You will find endless uses for it - just unfold the sturdy versatile shelf anywhere it's needed.
You Will Love This Product Because:
Need customized shaving space? Looking for a heavy duty storage solution that can hold pretty much anything from heavy machinery and paint cans to gardening tools? 
The "Big Boy" is one of our most heavy duty ones and holds up to 125 lbs. per shelf when the caster wheels are on and 250 lbs. when they are not. It is also our most versatile! You can easily modify the rack to become a 4, 5, 6 or 7 tier shelf. How? the shelves can be popped off or on any time you  need. It's a vertical storage master – fit for any room!
It's good for organizing toys in the playroom or even outside for gardening supplies in your backyard. You will find endless uses for it - just unfold the sturdy versatile shelf anywhere it's needed.
If you need extra space temporarily, just fold it back in seconds and store it away.
Here's What You Get:
Fully assembled, foldable 6-shelf rack in Origami Red
4 professional grade wheels, 2 with smart-lock function
Instruction manual
1-year limited warranty
Direct access to Origami's customer service
Features You Will Love:
Customizable shelves
Utilizes the patented Origami Connection Clip to ensure stability
Easy to set up - no tools required
Folds flat for easy storage under your bed or behind any door
Perfect for any space, including your garage, office or shop
Will It Fit In Your Space?
Time to get out the measuring tape! Dimensions and capacity of the 6-Shelf "Big Boy" Heavy Duty Rack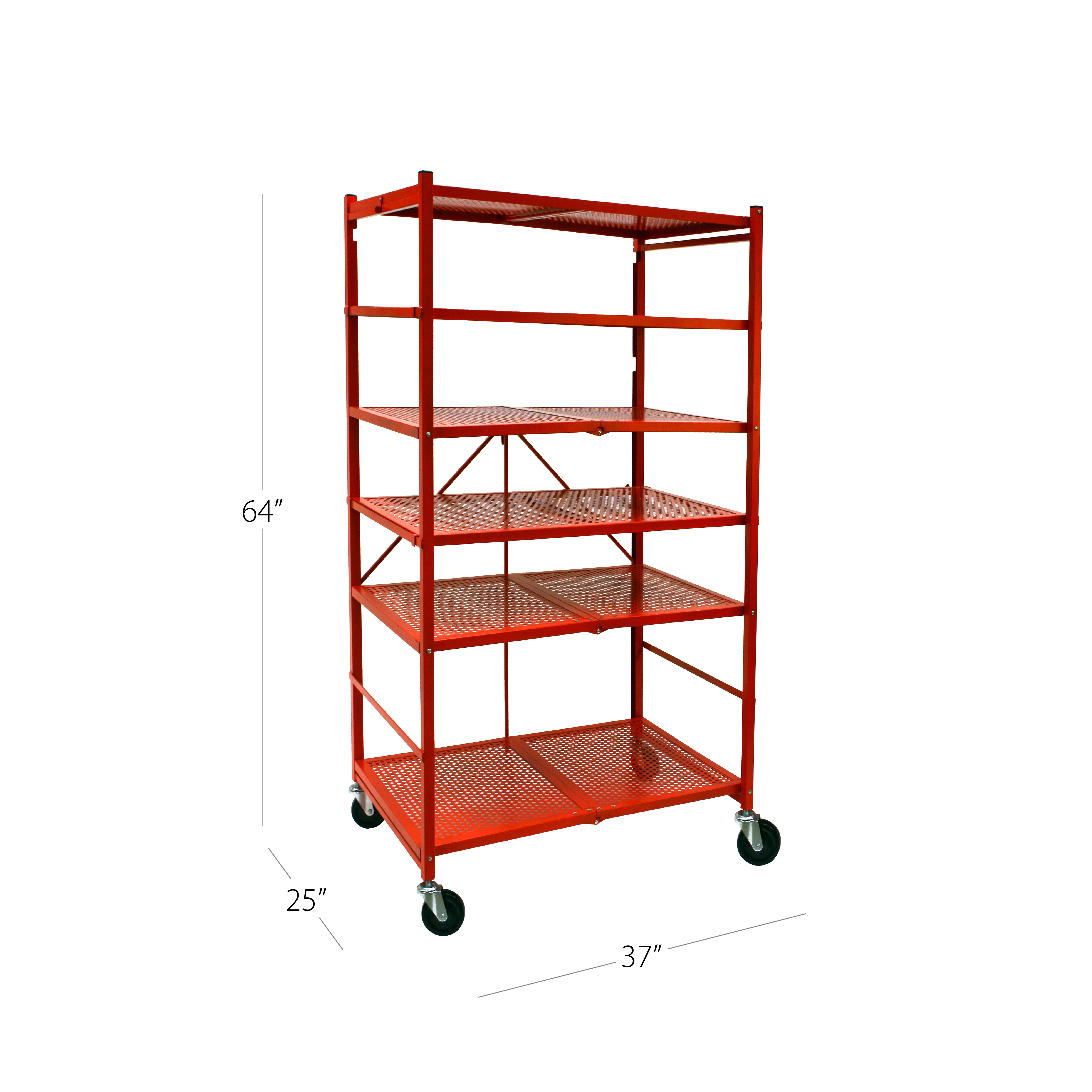 Size Unfolded:

Approx. 37" W x 25" D x 64" H

Size Folded (for Storage):

Approx. 3.4" W x 25" D x 65" H

Weight:

Approx. 68 lbs

Assembly:

Requires 1 person and less than 2 minutes. No tools required.

Weight capacity per shelf:

Approx. 250 lbs. (without wheels)
Approx. 125 lbs. (wheels attached)

Item Series (SKU):

This Rack is part of the Origami R5-HW-Series
Don't just take our word for it!
See Yourself Why The 6-Shelf "Big Boy" Heavy Duty Rack Is So Different