9-Cube Organizer Shelf [Refurbished]
---
Refurbished -This product is 100% functional and has passed the Origami Quality control
test.
This modern, 9-Cube Organizer shelf stands horizontal or vertical and helps you organize in style.
You won't believe it's that easy!
Our friends at HSN had this Organizing Wonder on a live show recently:
Check out a 1.5 min sneak peak of the show on the left.
Or the entire 13 min presentation here
You Will Love This Product Because:
Just open up this convenient, refurbished organizer to create instant storage. Don't let the word refurbished scare you! This product is 100% functional and has passed the Origami Quality control test.
This modern, 9-Cube wide span shelf stands horizontal or vertical and helps you organize in style. With 9 storage compartments to mix and match, you can fill them up with the kids' toys, or set it up in your backyard - pool-side and use it as storage for all your towels and pool accessories - they're out of sight, but still accessible.
This versatile organizer stands tight on its steel frame and is covered with a durable non-woven fabric – available in different colors - to match you style. The beauty: This storage wonder is stackable and collapsible - folds away in less than a minute if you need some extra space. No tools required, no assembly, and an ultra-flat fold that offers the ultimate in versatility and the easiest, quickest setup.
Simple yet highly helpful, this item can help you organize an array of things. Store your clothes, shoes, art supplies, cleaning supplies and much more. The individual slots go as deep as 13 in making it very spacious and perfect to put in your trunk grocery organization.
As for all Original refurbished versions: We can't guarantee which color combination you'll get - but we can guarantee that you'll get the best price. Please keep in mind that some might have minor scratches or dents. 
Here's What You Get:
A fully assembled and foldable 9 cube organizer
Instruction manual
1-year limited warranty
Direct access to Origami's customer service by phone or email
Features You Will Love:
Easy to set up - no tools required
Folds flat for easy storage under your bed or behind any door
Perfect for a variety of spaces, including your closet, home office, or laundry room
Will It Fit In Your Space?
Time to get out the measuring tape! Dimensions and capacity of the 9-Cube Organizer Shelf [Refurbished]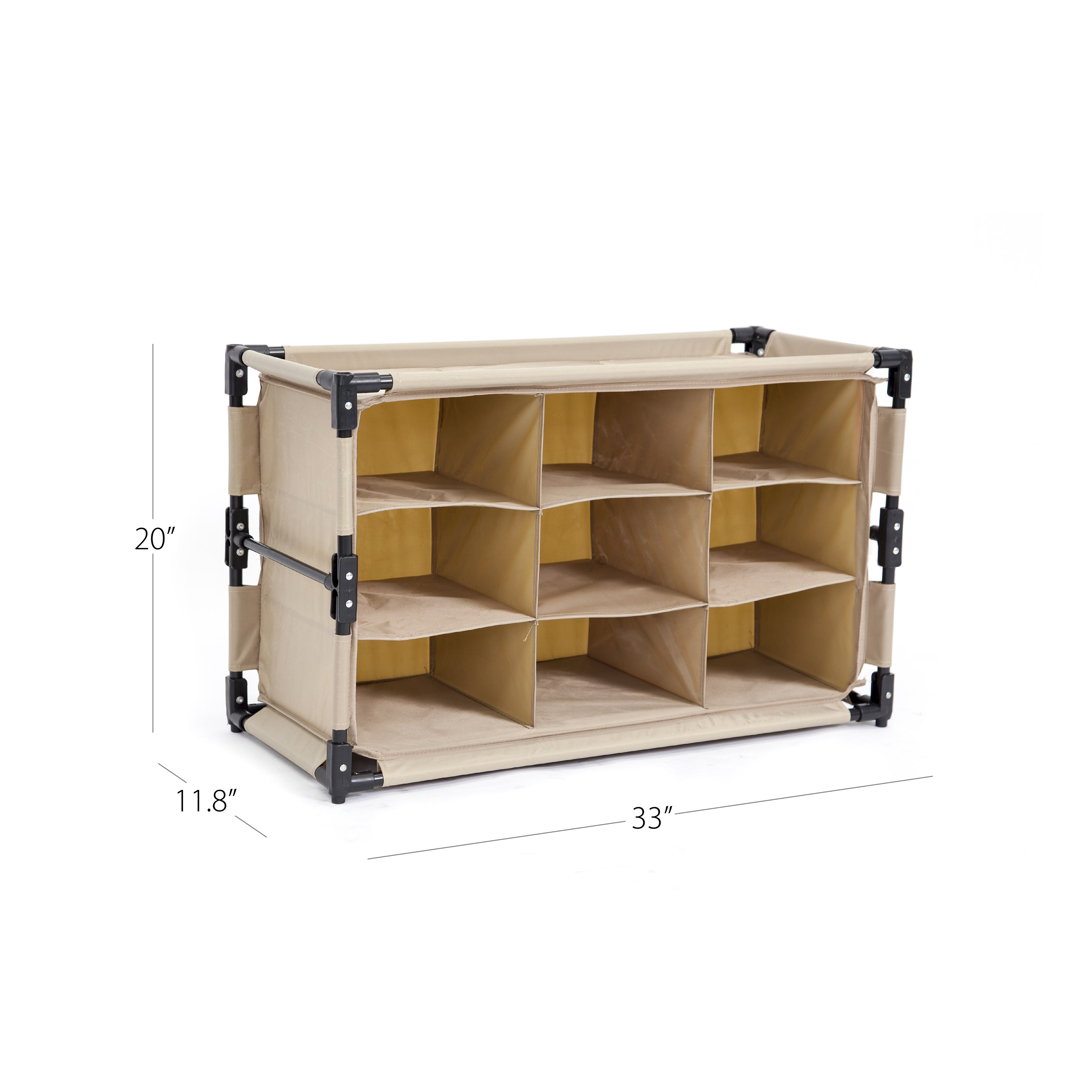 Size Unfolded:

Approx. 33" W x 11.8" D x 20" H

Weight:

Approx. 10 lbs

Assembly:

One person can assemble in less than 3 minutes - no tools required.

Weight capacity per shelf:

Approx. 8 lbs.

Distance between shelves:

Approx. 0.2" (measure bottom to top)

Item Series (SKU):

This Shelf is part of the Origami RSF-Series
Don't just take our word for it!
See Yourself Why The 9-Cube Organizer Shelf [Refurbished] Is So Different